Friday, 10 May, 2002 @ 7.27pm AEST
Posted by
Rhiannon
Elexa is a lard ball who has extreme butt zittage. She should invest in some bodywash or pimple cream as this tends to help clear arse breakouts. Floorgasm (who asked me to write this article) actually confided in me that he'd like to pop those puss balls between his teeth.


NEVER AGAIN CAN I ENJOY DRINKING A BANANA SMOOTHIE.



Thursday, 9 May, 2002 @ 3.54am EST
Posted by
Igor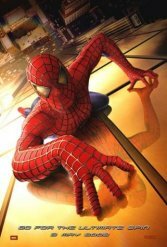 Spider-Man
Dir: Sam Raimi
Cert: PG-13
Running time: 121mins
Okay, you fucking dorks,
Spider-Man
was a good movie. I don't want to hear you bitch about it. I don't want to hear about his web shooters or how miniscule plot points were slightly different from your beloved comic books. Don't get me wrong, I had my fair share of Spidey books, but unlike most of you I stopped collecting them when I was like 15. Okay, now that I am done attacking you whiney fan boys I will try to review this movie with one thing in mind: I loved the Evil Dead trilogy.
You must understand that a certain Mr. Sam Raimi directed The Evil Dead, as well as this Spider-Man movie. Therefore without even seeing Spider-Man I could tell that it would be amazing because it was directed by that guy who did The Evil Dead. Truthfully I thought A Simple Plan was boring, word on the street is that The Gift sucked, and I couldn't give a fuck less about Xena Warrior Princess, but the point is Sam Raimi directed the best horror trilogy ever. So we love him and we automatically love Spider-Man as well.
The second reason Spider-Man was worth watching is that Bruce Campbell had a small part in it. Bruce, for those of you who don't go outside, starred in all 3 Evil Dead movies, and if I had my way, would have played Peter Parker, Green Goblin and Uncle Ben all at once. He is that good. In this movie he played a wrestling announcer that gave Spider-Man his name. He was quite amusing in it, and when he came on the screen I cheered. This is the most important reason you will go see Spider-Man again, or if you were in the hospital last week, see it for the first time.
Spider-Man did have its problems however, you see, the reason that Spider-Man wasn't perfect is that Tobey Maguire is a little bitch and Kirsten Dunce is a whore. William Dafoe however, is rad. So there you have it. Spider-Man was a good movie and you should watch it many times, if only to support Sam Raimi's directing career. It also has a good story, rad special effects and a touching ending, but you've already seen it so why tell you what you already know. Blah blah blah...
View the Spider-Man trailer
Sunday, 5 May, 2002 @ 11.11pm GMT
Posted by
Floorgasm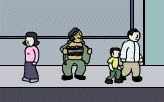 Furor over internet game
Suicide-bombing theme draws criticism and support
It's just a game. Or is it?
An online cartoon simulation called "Kaboom," in which the protagonist is a suicide bomber who blows up men, women and children as well as himself, has prompted a U.S. congresswoman to protest. In a letter to Tom Fulp, who runs the Web site that has posted the game, Rep. Nita Lowey of Westchester urged the webmaster to delete the game from the site immediately.
"This distasteful and offensive game makes light of the suffering of thousands of Americans, Israelis and others who have been victimized by suicide terrorism," the Democrat wrote. In a posting on his site yesterday, Fulp, 24, wrote that he would not remove "Kaboom."
Read more...
The game in question:
Kaboom!
---