Startled marines find Afghan men all made up to see them
British marines returning from an operation deep in the Afghan mountains spoke last night of an alarming new threat - being propositioned by swarms of gay local farmers.
An Arbroath marine, James Fletcher, said: "They were more terrifying than the al-Qaeda. One bloke who had painted toenails was offering to paint ours. They go about hand in hand, mincing around the village."
Read more...
"A woman for babies, a man for pleasure." There's a scary thought. The war on terrorism has a new enemy - gaylord Afghan farmers - more terrifying than the al-Qaeda.
---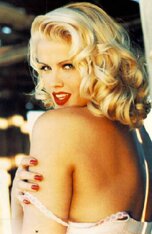 Model Anna Nicole Smith gets own reality tv show
Looking to go where no reality series -- not even "The Osbournes" -- has gone before, cable television's E! Networks on Wednesday unveiled a new show about Anna Nicole Smith (news - web sites), the former Playboy Playmate and widow of a 90-year-old Texas oil tycoon.
"The Osbournes," which airs on the MTV network and follows the doings of aging rock star Ozzy Osbourne and his family, is a smash hit on cable TV, appealing to viewers who want to see what the everyday life of a celebrity is like.
Read more...
I don't really see the attraction of watching Anna Nicole Smith's everyday life with her 16-year-old son and purple-haired assistant. Perhaps back in her prime when she was still a Guess? jeans model and didn't resemble a beached whale. She even says her life is now dull but is willing to hit some bars if it would make good television. Yes, well that will entice me to watch it even more now... However, Ms Perkins would watch claiming: "I'd love it.. for some reason I find her hot even though she looks like a tramp. I think if they did one she'd get ridiculed to fuck though cos she can barely speak and she slurs when she talks. She's thick as fuck too but I like her nontheless for some reason." That coming from the no. 1 fan of geriatric, has-been Shannon Tweed - star of those dodgy Friday night softcore skin flicks on Channel 5.
---