Thursday, 25 April, 2002 @ 9.35pm GMT
Posted by
Floorgasm
These are some of the topless Anna Kournikova pics published in the June edition of Penthouse. Hallegedly, hallegedly. It doesn't look like her though.
Wednesday, 24 April, 2002 @ 4.39am GMT
Posted by
Floorgasm
Cristie Kerr kisses the trophy she received for winning the LPGA Longs Drugs Challenge at the Twelve Bridges Golf Club in Lincoln, Calif., Sunday, April 21, 2002. Kerr finished with a four-day total of 8-under-par 280. This was Kerr's first win on the LPGA tour.
---
Couple in hospital after oral sex accident
A couple have reportedly ended up in hospital after painfully finding out that oral sex and cooking don't mix. The woman is said to have bitten the man's penis after he spilt hot oil on her back as she performed the sex act while he made pancakes.
It is the second similar accident in Romania in two years. In November 2000, Ananova reported how the same thing happened to a couple in Bucharest as a man was frying chips.
Read more...
I can't remember the Romanian couple back in November 2000 but I did post a story about a Russian couple back in
March 2001
. Makes me wonder if journalists just rehash old stories on a slow news day and say the couple didn't want to be identified. The stories are always strangely similar...
---
Veronika Zemanova nudes
Monday, 22 April, 2002 @ 11.17pm GMT
Posted by
Irn
McDee's (Part 1)


"Certainly, sir."
That is one of a multitude of false advertising tricks used by the most domineering of the fast food corporations. In the current line of McDonald's commercials, it portrays its staff rather majestically, using polite courtesy and helpfulness. In reality it's more a case of, "aye", rather than the above. If you're lucky you may get an, "aye, mate".
I decided to conduct a brief investigation into the truths of McDonald's advertising after viewing several of these mendacious commercials. I'm going to expose the cuntage!
In one of the commercials a clean, well-mannered young gentleman takes the order from two very tough-willed old bastards. One rants on about how it was different in his day when you couldn't just pop into a MickyD's for a Dairy Milk McFlurry™ and a Coke. The young, clean-cut assistant takes this in his stride with a wry grin and gets on with the job. Now, I experimented with this. Can the staff really take a talking to? No they can't. I went into my local McDonald's last night to cause some ruckus. The gentleman serving me was a spotty penis with a hair-do that consisted of a dyed blonde fringe only. It went something like this:
Irn: Hi. Can I have one of the cheeseburgers? Like the double one. They're all pretty shit compared to Burger King like. What's the best one?
Spotty Penis: Eh, dinnae ken man. They're all the same y'ken.
Irn: Any with salad and flame grilled shit? Burger King do those.
Spotty Penis: Just what it says on the board, man. You've got to pick one.
Irn: Nah. You pick one.
Spotty Penis: Are you wanting a meal or no, man?
Irn: Geez a Whopper meal.
Spotty Penis: A super size cheeseburger meal?
Irn: No. A Whopper meal.
Spotty Penis: I canny serve ye, man. You'll need to go up the road to Burger King.
The twat. That's not service! He should have said, "Oh yes mister, I'll make a flamed grilled Whopper equivalent pronto!" If he'd said that then I'd part with my hard earned pennies.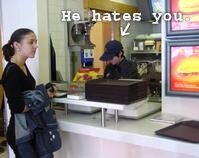 So we've established that the staff are not helpful, efficient and clean like real people. TV commercials lie?! Dear Lord no. This can't be. But it is, Jim. What do management think of it all? Do they know the score? Keep moist and next time we will find out...
Sunday, 21 April, 2002 @ 7.35am GMT
Posted by
Floorgasm
Saturday, 20 April, 2002 @ 3.41pm EST
Posted by
Sublimate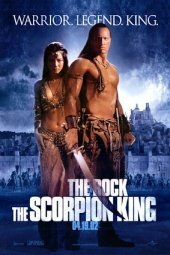 The Scorpion King
Dir: Chuck Russell
Cert: PG-13
Running time: 90mins
Treading in the well defined footsteps of a genre that spawned "Kull The Conqueror" and the classic "Conan the Barbarian", comes "
The Scorpion King
", a loose prequel to 2001's box office bankroll, "The Mummy Returns". In the title role strides our hero, the nearly comic-book calibre proportioned Dwayne Johnson, better known to his already vast fanbase as "The Rock", from late night wrestling fame. Supported by a cast that could be considered the schematic for sword swinging, head chopping epics like this one, The Rock suffers from no compulsion to act, or even pretend to. He swings his sword. Enemies die. He shoots his bow. Enemies die. He grunts. Enemies run in fear, fall on random spikey objects, then die. Fortunately, as audience members, we know exactly what we're looking for when we go into a movie like this one. No one expects pithy dialogue, except for perhaps in sound bites when The Rock kills another faceless badguy. I would venture to say that not one moviegoer sees "The Scorpion King" accidentally. That being said, the best part about "The Scorpion King" is that it may be the most self aware film to come along in years. The second we get antsy about an over abundance of plot points, we're assured to get a good strangulation. If you don't understand why an audience would laugh insanely when The Rock looks at the camera and raises one eyebrow, then this film is not for you.
Like Arnold Schwarzenegger throughout his career, The Rock seems to understand that to be successful in what they're both attempting, you have to surround yourself with excellent people. They make you shine brighter and in the end give extra bodies to throw blame upon. Notables here are the enthralling Kelly Hu (Surf Ninjas, Jason Takes Manhattan), who performs admirably in her cliched role as "The Sorceress". When she's onscreen, her attractiveness lessens the blow of her weakly scripted magic mumbo jumbo, and her movements liken her to the serpents we see in her presence. Audience members will undoubtably be disappointed by the true magic she seems to posess; hair that is always strategically covering everything they want to see, even while hurtling down a waterfall. Back for a reprise of his 'big guy that leads people and beats up stuff' role, but this time minus the monkey suit from "Planet Of The Apes", is Michael Clarke Duncan as the huge token black man Balthazar. I won't even begin to question why most of the people in ancient Africa are Caucasian here. It's a topic for another day. In his Balthazar role, Duncan performs more than admirably, growling, grunting, yelling and kicking people in the face.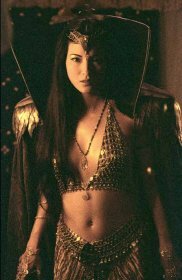 Two weak roles in this film serve to bring down the whole, however, as they are given more than a minimum of screen time. First is Grant Heslov playing the role of, and I'm not kidding, look in the credits, "Comedic Sidekick". You can imagine correctly the expansiveness of such a titled spot, and we see it played out as he trips over things, hits himself, and seems to be the only truly unbathed man in the whole desert. This film has enough tongue-in-cheek comedy momentum that Heslov seems redundant and unnecessary. The second casting fault lies with our main villan Memnon, Steven Brand. We get the impression that Memnon is intelligent and cunning, two things that offer no challenge to the beat the crap out of it style of The Rock. We never think for a second that Memnon could give our lead any trouble, and in the end, we're right. Think of James Earl Jones as the Reptile King in "Conan", and you'll understand what this is missing.
All in all, The Scorpion King is the visceral slice fest it was meant to be, in PG-13 style, with ripping and splashing sound effects replacing many of the nastier visuals. The first in line of fantasy films dogging the success of The Lord Of The Rings, it won't be anywhere near the last. There will certainly be a sequel (prequel-sequel?), and I dare say more movies like it in the coming years. If you go, you know what you're getting. Just enjoy yourself.
View the The Scorpion King trailer
Saturday, 20 April, 2002 @ 6.11pm GMT
Posted by
Floorgasm
Lawyers reach for bard in man's bid to retain adopted name
A Victorian man's bid to use his adopted name, Prime Minister John Piss the Family Court and Legal Aid, had lawyers reaching for dictionaries in the Federal Magistrates Court today.
Read more...
It's obvious that 'Prime Minister John Piss the Family Court and Legal Aid' is an "exhortation" to Prime Minister John Howard to "abolish" the Family Court. Who cares what it is though, he has a right to change his name to anything he wants. Yet the passport office deems it necessary to take this bloke to court over such a trivial matter. Just cancel the passport and be done with it instead of making a mountain out of a mole hill.
---
Finger transplant
Gaioz Jakeli lost his manhood and the ability to urinate because of cancer. In attempt to replace his manhood, Gaioz had his middle finger removed. The finger was attached to create a channel for conventional urination. Twelve days after the operation, the man was able to urinate normally, from what used to be his middle finger. His sex life has resumed as well.
Source:
Ripley's Believe It Or Not!
ROFFLE! Hard to believe but funny anyway.
---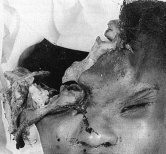 Man shoots off brain tumour
Amazingly the act to end one's life ultimately saved it.
"Steve Huey" was suffering from an inoperable and fatal brain tumour. Doctors had given him only two months to live, so Huey decided to end it sooner rather than face the pain. He wrote a suicide note and then placed the gun to his head and shot.
Later, friends found him on the floor in a pool of blood. They called the ambulance and within hours, Huey was up and walking around. "His sense of humor was amazing, but even more amazing is his luck," remarked his doctor.
Read more...
Did the guy from the finger-cum-pen0r story write this one too? A movie and sitcom is in the works - a movie I could understand, seeing as how Hollywood are out of ideas and all but a fucking sitcom?!?! I also like the part where they say he'll auction off the gun, hospital bill and tumour. "Any collector will love to own this tumour and should be willing to spend lots of money for it." Yeeeahh, I always wanted a hospital bill and tumour of a guy who tried to blow his brains out...
---
The new face of chess is a pretty one
The new face of chess is not a nerdy, nondescript, temperamental teen-age boy - but a smart, hip, sexy 17-year-old girl.
Dubbed the "Anna Kournikova of Chess," Alexandra Kosteniuk of Russia has wowed game gurus with her keen, aggressive approach to the sport: She placed second in the Women's World Chess Championship in January.
But she has also snagged attention with her good looks, winding up on the covers of magazines, modeling a new chess uniform and circulating photos of herself on the Internet.
Read more...
It's better than looking at Garry Kasparov.