24 Countdown Finale Special - 11pm


This is it. The last episode of 24. A momentous occasion in TV history? Probably not, but seeing as how 24 has gone mainstream now, you could be forgiven for thinking that it was, rather than being a trashily enjoyable spy thriller with a few novel gimmicks. Unfortunately, 24 has been pounced upon (at the eleventh hour, ho ho) by the papers and the publicity for this week's final episode has been such that I doubt there are many people left who are unaware of the series' amusing plot holes or who do not hold an opinion on the merits or otherwise of Teri's cardigan.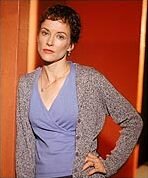 Cardigan controversy
So anyway, what happened to our heroes (and villains) in the final hour? Firstly, Kim completed her remarkably easy escape from the Drazens by climbing a fence and hailing down a truck. In fact, I think she was basically safe by the time the opening credits had finished. A bit quick for my liking, but at least that's one thing out of the way. Kim survives.



Not dead
Meanwhile, prize shrew Sherry Palmer is still bending Senator Palmer's ear about this and that, most notably the fact that Palmer is pretending to be dead in order to fool the Drazens and keep Kim alive as their hostage. Sherry decides to leak his non-dead status to the media and Palmer goes crazy. Some people just can't take a telling.


These people can't take a telling either
Jack has arrived at the LA docks, to meet with the Drazens, and has worked out that the Drazens must have another mole within CTU. Unfortunately, he decides to confide in Nina with this information. Nina is now in full contact with the Drazens and also speaking in English, which is a shame as I liked her Serbian voice. Jack is too smart and won't come out until the Drazens prove Kim is still being held. So Victor orders Nina to phone Jack and tell him that Kim is dead in order to bring him out in revenge.


Now it's personal for Jack
Rule 357 of action thrillers: Don't unduly piss off the hero, or it becomes 'personal'. Sure enough, Jack goes absolutely mental and smashes into the Drazen hideout with a van, and then gives it some superb John Woo style dual pistol action, blowing away the terrorist henchmen in slow motion.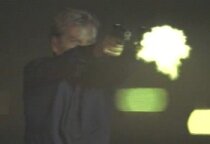 Jack gives it his best Chow Yun Fat pose
After some more shooty action, Jack chases the Drazens onto the pier, where they have a waiting speedboat. Jack manages to shoot Andre, but is himself shot in the stomach. Victor has Jack in his sights, but is out of bullets! Jack gets up and stares at Victor for a bit before shooting him about a million times. Victor is dead within twenty minutes!



Dead at last
We were lucky that Victor fell into the water as he was shot, sparing us a protracted dying scene in that dreadful accent

Anyway, back at CTU, Teri is still wandering around unsupervised, whilst Nina, realising her cover is blown after lying to Jack, begins to prepare for her escape, deleting files and other time wasting activities. A janitor walks in, and Nina coolly shoots her with a silenced pistol. She is on the phone, speaking German, when who should wander in but Teri Bauer - if only Nina had locked the door behind her, she could have saved herself a lot of trouble. Nina tries to fob her off, but Teri notices the blood from the dead janitor, forcing Nina to take her hostage.



Nina takes Teri hostage but expecting Teri Bauer to sit still is pretty wishful thinking
At the docks, Jack is with the police in the aftermath of the shootout. He is soon told that his daughter's body hasn't been found and that Nina was lying to him. He phones George Mason and tells him to arrest Nina, but Mason, ever the professional, won't act without more evidence. So, on his way back to CTU, Jack uses some of that spy technology that we have seen so little of recently and has the CTU archive guy send him the security video from when Jamey Farrell, the first mole, died. The video clearly shows Nina murdering Jamey before looking up at the camera with an evil stare.


Nina kills Jamey
This takes about five minutes and is so easy it makes you wonder why no-one thought of doing it a LONG time ago. Jack could have been finished by lunchtime.


Not the mole, well it is, but not this mole
Palmer doesn't have much to do in this final hour, but his final act is to ditch Sherry and not before time too. Amazingly, she doesn't have a clue that this is coming, but hey, her shocked face was good.



Not going to the White House
Jack has by now shown Mason the tape and the building is being searched for Nina. Nina has other plans and starts shooting the guards who are looking for her. Is she simply going to shoot her way out of CTU? It seems so as she walks out of the building picking off guards here and there. CTU mustn't have very good security, for if it's that easy to get out it cant be very much harder to get in.



Nina makes her escape from CTU
Anyway, she gets in her car and is making an escape when Jack turns into the car park. He spots Nina and they drive at each other full speed, whilst also shooting at each other through the windscreens! Eventually Nina crashes. Jack grabs her and puts a gun to her head, prompting Nina to reveal the potentially series two important fact that she was not working for the Drazens.



Evil stare - I always knew she was bad news
Jack looks like he might shoot her, but Mason and some other CTU staff run over and tell him they need her alive. Tony Almeida's face as Nina is taken back into CTU is a peach. What a sucker. Serves him right for that chin-fluff.


Poor old Tony, he never saw it coming
Finally, Jack runs back into CTU and is reunited with Kim, she asks him where Teri is, so he goes to look. He finds her where Nina left her, but shot through the chest! Teri is dead! Oh no!


---

Ok, so that's that for this series of 24. Not much to laugh about this episode you might think, and you'd be right. However, the BBC rarely lets us down and did not disappoint today by following 24 with '24 Postmortem', from with lots of black hearted sniggers could be obtained. This show really had to be seen to be believed, as it made RI:SE look like something other than the cheap, badly thought out mess that it is. If possible, this show was even cheaper looking than the '24 Heaven' thing on last week. It began in fine style as Claudia 'poor man's Davina McCall' Winkleman raked over the ashes of the 24 finale in the po-faced manner normally reserved for state funerals when announcing Teri Bauer's death.


The overly-enthusiastic, possible younger sister of Phillip Schofield
Claudia was seated in a cheap-ass mock up of the CTU headquarters and the screen was cluttered with scrolling messages and contact numbers so you could contribute to the whole farcical affair and make it look as though there was actually something going on.

Assisting her in this house of crap was a studio audience consisting of some of the most fantastically geeky fans seen this side of Robot Wars.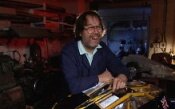 Not quite as geeky as 24 fans
And did I mention the dreadful phone-ins and D-list guests brought on to offer opinions about the show's conclusion? Rarely has talk been quite this cheap.

What with 24 becoming popular all of a sudden, it seems that everyone and his mum has been watching it from the start. Even Dominic 'bloody' Mohan from The Sun, and Jo 'flippin' Whiley from Radio 1 were phoning up claiming to be big 24 fans. Bollocks you were.




Embarrassing their kids, Jo Whiley and Dominic Mohan
A new series of 24 is in the works, set one year on. Unfortunately, us British viewers will have to wait a year for it as well. Palmer's in the White House, Jack's gone round the bend, Nina's in jail and Mandy will be back. Can't wait!