Not sure about those bars. Really not sure about those bars, I mean fine for a gimmick for a few weeks but for the rest of the show? Um, sack the person who had that stonking idea. They say that BB3 has the highest ratings of all the rest and I agree this is the first one I've watched all the way from the start, but let's be frank if we can, they don't do nuttin'. There have been a few snogs and gropes, but that's all. Well I'm sorry kids, but that don't rock my boat.
And it's not just us who find it boring, Sandy had to scale a wall commando style in an effort to inject a bit of action into the show. That whole rich thing, poor thing just isn't entertaining, who gives a stuff. Give them something to do, something that'll make or break them PLEASE. The only bit of entertainment this week was Jade and 'Dellie' having a scrap about a verucca and poor little Alex screaming at the top of his little voice to get some calm. 4 star points to Alex.

Even though a lot of people wanted both Jade and Alex out in the first week, I think we have all come to see that they are mighty entertaining.
Also good to see the back of dumb-dumb Lee, the way I see it, he is too thick to have a game plan and my only explanation for his bird being so lenient with him is that she told him that flirting with everyone would keep him in the house. Meanwhile she was at home planning what to do with the £70k.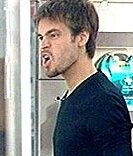 The next ideal nomination would be Sophie, I'm sorry, but she just rubs me up the wrong way. She's slimey - no other way I can explain it - she's right up herself too. PJ next for being such a girly twat when Alex didn't choose him to be on the rich side. Peej mate, there were about 5 other people that he didn't pick too, get a grip.
As for this week's nominations, it'll be a close one. There are the ikkle girlies who love Spencer and yeah he's okay, but then there are the older and wiser population who have come to realise that Alex is such good value. He has his faults, but who wants a house full of tree hugging hippies?
It's a tough one, but for fear of breaking up a sesh between him and Kate, I think Spencer should be the one to go.