Friday, 20 September, 2002 @ 11.58pm GMT
Posted by
Floorgasm
Four models prance around wearing only briefs and high heels at a fashion show in New York. They're pushing top-of-the-range Dysons for some unknown reason.
---

Yay for losers with no talent, humiliating themselves on national television - and that's just Geri Halliwell. Someone care to tell me again why she's a Popstars judge? Yes, it's back on our screens in the guise of Popstars: The Rivals. Two bands will be picked - a boy band and a girl band - and they'll get to fight it out for Christmas #1 in the charts or something like that. Did they have
tards
like this on American Idol?
Atomic Badger Racing
- Bet on the badger you want to win and drop cat bombs on opposing badgers to slow them down! If your badger is lagging behind, you can use a nitroboost.
How long do you have to go?
- Work out how many years you have left to live. I have another excruciating 52 years to go before I peg it.
Soggy Biscuit
- An urban legend? This is why guys who go to public school are deemed as fags because they make other kids participate in this kind of 'game'. Sort of amusing though...
War
- An animation revealing the worst case scenario for our country in the event of a war.
---
Wednesday, 18 September, 2002 @ 7.23pm GMT
Posted by
Floorgasm
Meet Nick Nolte. The 61-year-old actor was arrested yesterday (9/11) for driving under the influence after a California Highway Patrol officer observed Nolte's Mercedes-Benz weaving across lanes and into oncoming traffic on the Pacific Coast Highway in Malibu. According to a CHP spokesman, Nolte was "drooling" when he got popped at 12:40 PM. After failing a field sobriety test -- it's unclear whether Nolte was drunk or drugged-up -- the actor was taken to the Lost Hills sheriff's station where he was booked.
Source:
The Smoking Gun
The news story can be found
here
and the press release
here
.
---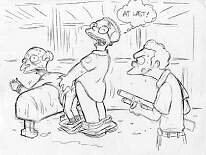 Corey Feldman Discography
- Crap at acting so he's turned his attention to music. Unfortunately, his 'music' is just as bad. Probably the worst music you'll have the misfortune to hear EVAR! Don't do eet!
Field Goal
- Score a goal over varying distances.
Golden Arrow
- Archery game.
Meat or Accident?
- Can you tell the meat from the bloody body parts?
Simpsons Pulp Fiction
- Drawings of the Simpsons cast in scenes from Pulp Fiction.
Sub Mission
- There's 9 treasures to collect but it's much better to go after the other submarine and fire torpedoes at it. Best to avoid the torpedo turrets scattered around the seabed.
---
Monday, 16 September, 2002 @ 11.19pm GMT
Posted by
Aneurin
Summer Music Special - Part 4!


Like pop? Then take a seat, we're reviewing pop records right here!
Avril Lavigne - Complicated
(Arista)
As with the likes of Norah Jones and Vanessa Carlton, we've probably been told a bag of lies about Avril, including such gems as 'she writes her own songs' and that she plays her own piano/guitar/bassoon and because of this she is, wait for it, 'a serious female artist'. Hooray! You see, poor old Avril has been lumbered with the 'anti-Britney' tag, which in practice means she has a strum-along guitar, three-quarter length trousers and a backing band comprised of Sum 41 rejects. The song itself is really no different to anything Britney herself would have come up with a year ago (before she got all raunchy) except that the synthesisers have been replaced with rawk guitars. Will the kids be able to see through this cleverly targeted marketing? Or will the nu-metal wannabe chicks eat it up like henna tattoos and black T-shirts with green writing?
Pop fact: 'Avril Lavigne' is an anagram of 'evil naval rig' and 'valve in a girl'. Spooky.

Liberty X - Got To Have Your Love
(V2)
The plucky, but decidedly low-rent 'Popstars' losers find themselves in the unlikely position of having a chance of a mid-range career, as opposed to winners Hear'Say, who everyone hates now. Liberty X put their newfound success down to the fact that they wear very little clothing and their new video indeed features the quintet jiggling by the pool in skimpy bikinis. "We're just giving the public what they want," said Kelli before adding, "And Hear'Say can suck my balls." Apparently, there are a couple of men in Liberty X, but I've never seen them.
Pop fact: Liberty X's last video featured the band in a 'Mission: Impossible' parody in which the girls wore PVC catsuits.
Oasis - Little By Little
(Big Brother)
What is this shit? After two brilliant singles, Oasis decide to release one of the worst songs off their new album, 'Heathen Chemistry'. This plods along for a full five minutes, and is sung by Noel, which is a complete waste of time when they put one of the best rock and roll singers around (Liam) on tambourine duty.
No more music for you! Come back when some more records get released.
Sunday, 15 September, 2002 @ 11.51pm GMT
Posted by
Aneurin
Summer Music Special - Part 3!


We're back! And still reviewing records!

Britney Spears - Boys
(Jive)
Holy crabcakes! When did Britney Spears go and get good all of a sudden? Maybe because the Neptunes wrote this song and mixed it and stuff. Apparently 'Boys' was first offered to Michael Jackson (no, really!), who was forced to turn it down as he was pregnant with his new son Prince. On a not entirely related note, do you imagine that when people go round to visit Michael Jackson's house, he has to say things like: "I can't come to the door right now, I've got Prince in here shitting all over the place." Britney Spears recently introduced 'Wacko' at some show and said he was her 'Artist Of The Millennium'. The former Jackson Five frontman then graciously addressed the crowd thanking them for bestowing him with this great honour. What a nice guy.

Kelly Osbourne - Papa Don't Preach
(Epic)
The brat off the blatantly fraudulent 'Obsournes' show gets her own stab at pop stardom. Apparently the machine used to make her voice sound listenable was housed inside a hollowed out mountain. When not at home acting up for the cameras, Kelly likes nothing better than to fly kites at the beach, "It never ceases to amaze me how it stays up there" says the singing star. This song was originally done by Madonna, but the kids'll never know it. Hahaha.
Pop fact: Kelly Osbourne is a fat little munter.
Vanessa Carlton - A Thousand Miles
(Polydor)
Despite being a VH1 staple, this is a real grower on me. I find myself humming along to it all the time. Pop princess Vanessa (but don't call her Britney!) follows in a long tradition of distance related songs such as '500 Miles' by The Proclaimers and '2000 miles' by The Pretenders. By my reckoning that makes her twice as good as The Proclaimers, but only half as good as The Pretenders. Sounds about right.
Want more? Come back tomorrow, you dirty yahoos.
Saturday, 14 September, 2002 @ 7.31pm GMT
Posted by
Aneurin
Summer Music Special - Part 2!


Pop-a-doodle do, pop fans! We're here to keep you up-to-date with all the latest chart rumblings as well as letting you in on all the top celeb goss! If you don't know your Hear'Say from your 5ive then you've come to the right place*.

Atomic Kitten - The Tide Is High
(Innocent)
Am I the only who thought it was 'high' time that someone covered this classic Blondie tune? The 'Kittens' are certainly on the 'crest of a wave' right now in terms of their careers with three successive number one smashes, which I believe puts them just behind the Beatles in terms of the made up chart stat of the month. One thing is for sure, this record will certainly 'tide' over the potential millions of Atomic Kitten fans before they embark on their sell-out UK tour in a few weeks.
Pop fact: Kerry Katona, who is no longer in Atomic Kitten having married the fat one from Westlife, has enormous tits.
Nickelback - Too Bad
(Roadrunner)
Hard-living bad boys of pop Nickelback have been rockin' all over the USA for a while now, so you better watch out now that they've announced a European tour! Lock up your daughters, party on and be most excellent to each other, dudes! Apparently, this kind of shit is quite popular in America, and also tremendously important, like everything else the Americans do. This is probably part of the shitty nu-metal scene which seems to be quite popular nowadays, so it'll sell by the bucketload and be featured on an advert for a car.
Paul Weller - It's Written In The Stars
(Independiente)
Veteran rocker Paul has this week prompted controversy by coming out against George Bush's stance on a war with Iraq. The former Jam firebrand said: "I think we shouldn't go and have war there. In fact, I'm against it." He also said something about feeding starving people in Africa, probably. Weller, who once shocked millions with his silly haircuts and bad clothes as a member of the ironically named 'Style Council', becomes the 4526th person to come out against the war in recent weeks and follows in a long tradition of anti-war musicians from Bob Dylan to George Michael (whose recent 'Shoot The Dog' single failed to trouble the chart scorers). Looking back through rock history, pro-war bands remain resolutely thin on the ground. Lemmy out of Motorhead used to wear German WW1 helmets, and New Order were rumoured to have got their name from a book proclaiming the Third Reich. On a more relevant note, Paul Weller used to be good, but now he's boring.

Will Young & Gareth Gates - The Long And Winding Road
(RCA)
Pop Idol 'rivals' Will and Gareth have always insisted there was never any contention between them as they vied for the Pop Idol crown last year, despite several tabloid newspapers stating that it was quite clearly true. Now they are back back back, and ready to show the naysayers that the divisive rumours have only brought them closer together! Some cynics have chosen to question the long term appeal of Will and Gareth, wondering aloud where they would be in five years. Shea Stadium? Or Burger King? Well, with this sure-fire smash, W&G are proclaiming 'long and winding' careers ahead! Apparently, this is a cover version of the old Beatles classic, although you can't tell from actually hearing it.
Don't go away! More music tomorrow!
*Hear'Say and 5ive not featured in today's update. Go look somewhere else. Besides, 5ive split up AGES ago. Get with the programme, gramps.