Friday, 15 June, 2001 @ 9.27pm GMT
Posted by
Floorgasm
Hey, LOL, G2G! Remember
Brittney Cleary
who I mentioned back in
May
? She's now ready to release her single
I.M. Me
. God help us.
Read more...
---
Boys arrested for tarring kitten
Children face felony cruelty charges
Two Marion County boys were arrested Wednesday for allegedly torturing a kitten.
The boys, 7 and 11 years old, face felony cruelty charges after they allegedly put the 6 to 8-week-old kitten in a barrel of tar and left the animal on a sidewalk to die.
Read more...
---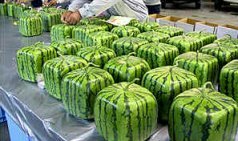 Square fruit stuns Japanese shoppers
Japan has again shown off one of its greatest innovations - square watermelons.
For years consumers struggled to fit the large round fruit in their refrigerators.
And then there was the problem of trying to cut the fruit when it kept rolling around.
Read more...
Wednesday, 13 June, 2001 @ 4.23am GMT
Posted by
Floorgasm
Schoolgirls accused of raping deaf boy
Four Sowetan schoolgirls, who allegedly raped a 15-year-old deaf boy twice last month, appeared at the Protea Magistrate's Court on Monday.
The girls, who are all aged 15 and attend the Vuwani Secondary School in Chiawelo, were not asked to plead.
Read more...
Seeing as they were all chicks, I presume there was no backdoor bashing going on and I doubt this deaf kid popped a Viagra or two beforehand. So I'm just wondering how you can call it 'rape' when this lad was obviously up for it. Yeah, they abused him, so much so, he managed an erection and screwed them on two separate occasions.
---
Patricia Velasquez nudes
I'm not going to link the Mario Flash movie that's been going around because it's hella lame. Have this instead -
I'm A Cow
.
---
Nasa aims to move Earth
Scientists' answer to global warming: nudge the planet farther from Sun
Scientists have found an unusual way to prevent our planet overheating: move it to a cooler spot.
All you have to do is hurtle a few comets at Earth, and its orbit will be altered. Our world will then be sent spinning into a safer, colder part of the solar system.
Read more...
---
Computers and carpal tunnel syndrome
Study: using computers doesn't increase chances of getting disorder
Contrary to common perception, a new study says heavy computer use may not increase the chance of getting carpal tunnel syndrome, a compression of a nerve in the hand that produces tingling and numbness.
Read more...
Sunday, 10 June, 2001 @ 11.58pm GMT
Posted by
Floorgasm
Is
FakeTown
the next
Habbo Hotel
? Still in the beta stages, the best thing about this is the casino where you can gamble your credits on slot machines, blackjack and poker. Unlike
Habbo
, the credits are free so you shouldn't have any trouble furnishing your gaff. If I'm on, you'll most probably find me (Floorgasm) in the casino.
---
Bruce Lee Flash movie
- He fights a tubby twat.
English For Americans
- Flash guide for our friends across the Pond with our favourite, multi-purpose word "bollocks".
---
Specially padded bra saves woman from nail puncture
A Frankenmuth woman is breathing easy, and for that she credits her bust-enhancing bra.
Dana Colwell, 31, was cutting her grass Tuesday when a 1 1/2-inch nail shot out from under her mower and punctured her right breast.
Read more...