An Argentine riot policeman shoots a demonstrator with rubber pellets during a protest march that turned violent in the center of Buenos Aires, early January 11, 2002. Frustrated Argentines clanged pots in front of the presidential palace to protest banking curbs designed to halt a run on the banks, as dozens of banks and stores, as well as phone booths, were smashed by rioters. The protestor was injured in the incident with pellet wounds in his abdomen.
Source:
Yahoo! News
---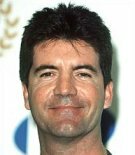 As if stealing programmes like Who Wants To Be A Millionaire?, The Weakest Link and Popstars wasn't enough (okay so the last one came from Down Under but you Yanks stole it from us!), US telly bosses are attempting to sign 'Mr Nasty', Simon Cowell, to front
Pop Idol
in America.
Famed for being the most brutal judge on the show, reducing many contestants to tears with his lethal putdowns, Cowell could make a staggering amount of money - more than he could ever earn from British TV or a record company.
The 42-year-old record company executive, who gave us Westlife and 5ive, is expected to sign with Fox or HBO within the next few days.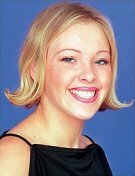 Speaking of Pop Idol, it seems like it's been on forever. Will it ever end?!?! They're still voting one person off each week, we haven't even got to the stage where the winner gets in the studio to work on some songs. Nowt like milking it to death. When a winner is eventually chosen, they'll receive a management deal with 19 Management (the team behind S Club 7) and a recording contract with RCA Records.
My remaining favourite, Rosie Ribbons, was voted off on Saturday. Is there no justice in the world?! To be honest though, she was a bit crap, belting out Abba's The Winner Takes It All.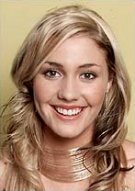 Like the rest of the finalists who got the boot, Rosie is in discussions over a possible record contract, this time from Pete Waterman (the guy that brought you Steps and Kylie Minogue) who is also a Pop Idol judge.
Sarah Whatmore was another 'Flop Idol' who was voted off and immediately snapped up on a five-album recording deal by Simon Cowell. The programme's 'Mr Nasty' dubs her the British Jennifer Lopez.
As for the US version, I doubt they'd have any contestants that could match the likes of Rik Waller (also know as Fat Rik, Fats Waller, Fat Bloke, Fat Spice..) or the weird hand-slapping, pretentious nonce that is Darius Danesh. I wish I had the video of Darius' X-rated rendition of Britney on Popstars (which he also appeared on but didn't make the final 10). "Hit me baby one more.. *slap* *slap* *slap* ..time!"
---
It's the ITV Digital Monkey, star of the ITV Digital Al and Monkey TV ads in various movie poses...